I'm in total agreement with Congressman Peter King... When he claims this attack by Wikileaks is worse than a military attack! This kid has more issues than The Satruday Evening Post!
String him up! - At least get him some therapy!
WikiLeaks Are A Bunch of Terrorists, Says Leading U.S. Ccongressman As No10 Warns of Threat to National Security
By James Chapman, Gerri Peev and Ian Drury
One of American's leading politicians today called for WikiLeaks to be reclassified as a terrorist organisation after the latest release of top secret intelligence documents.
Congressman Peter King, the incoming chairman of the House Homeland Security Committee, claimed that the data breach was 'worse than a military attack.'
'I am calling on the attorney general and supporting his efforts to fully prosecute WikiLeaks and its founder for violating the Espionage Act,' the Republican said.
He added he had written to the Secretary of State Hillary Clinton to ask if the group could be classed as a terrorist organisation.
'(The release) has put American lives at risk all over the world,' he said.
'This is worse even than a physical attack on Americans, it's worse than a military attack.'
The Obama administration was today attempting damage limitation after the publication of 250,000 top secret documents from embassies across the world.
Highly embarrassing missives from American diplomats revealed their real impressions of world leaders and highly sensitive political discussions.
These included the revelations that Mrs Clinton had asked for surveillance of UN diplomats and that the Saudi royal family had urged an attack on Iran.
But the leaks so far appear to have been less damaging than first thought. Instead anger has turned on WikiLeaks founder Julian Assange. He is already facing allegations of rape in Sweden and Australia police are considering if he had broken any laws in releasing the information.
The British government was reeling from a wave of damaging revelations which emerged in the biggest intelligence leak in history.
Secret U.S. embassy cables portray David Cameron as a 'political lightweight' and describe how a former Labour minister was a 'hound dog' who persistently chased women.
There were also sensational claims of 'inappropriate behaviour' by Prince Andrew, who is a UK trade envoy.
Downing Street today condemned the disclosures but said that officials expected several more days of revelations.
'The leaks and their publication are damaging to national security in the United States and in Britain, and elsewhere,' a spokesman said.
The information come in a tranche of 250,000 classified documents released by WikiLeaks, which today confirmed it had come under cyber attack ahead of the release.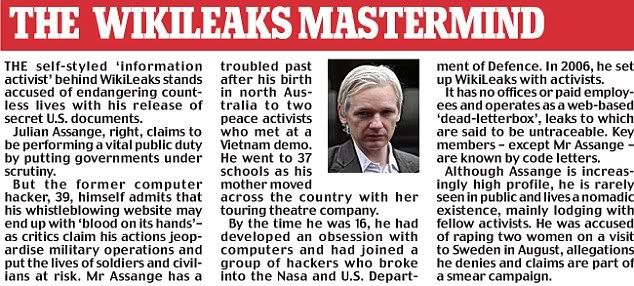 Click picture to enlarge