Even though America suffered it's most traumatic, most devastating attack on the homeland back on Septembe 11, 2001, the Deomcrats are so angry with George Bush that they will say and do nearly ANYTHING to smear and defame the man!
The Democrats certainly do not have America's best interests at heart.
The current President has released many secret CIA documents that expose interrogation techniques to any future terrorist. It wouldn't be much of a stretch to believe that said terrorists are now training on how to resist those very techniques!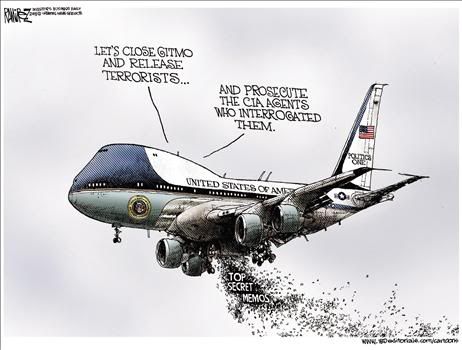 By Michael Ramirez
Stupid Liberals!
The current Speaker of The House has said she was not briefed on any of those techniques and she knew absolutely nothing about them.
Pelosi briefed on waterboarding in '02
Glenn Thrush at POLITICO
Nancy Pelosi denies knowing U.S. officials used waterboarding — but GOP operatives are pointing to a 2007 Washington Post story which describes an hour-long 2002 briefing in which Pelosi was told about enhanced interrogation techniques in graphic detail.

Two unnamed officials told the paper that Pelosi, then a member of the Democratic minority, didn't raise substantial objections.

Joby Warrick and Dan Eggen
wrote
:
In September 2002, four members of Congress met in secret for a first look at a unique CIA program designed to wring vital information from reticent terrorism suspects in U.S. custody. For more than an hour, the bipartisan group, which included current House Speaker Nancy Pelosi (D-Calif.), was given a virtual tour of the CIA's overseas detention sites and the harsh techniques interrogators had devised to try to make their prisoners talk.
Among the techniques described, said two officials present, was waterboarding, a practice that years later would be condemned as torture by Democrats and some Republicans on Capitol Hill. But on that day, no objections were raised. Instead, at least two lawmakers in the room asked the CIA to push harder, two U.S. officials said.

UPDATE: A Pelosi spokesman passes along her response to the article when it first appeared, claiming that Pelosi's successor on the intel committee -- Yep, Jane Harman -- lodged a protest with the CIA when she learned waterboarding was in use.

"On one occasion, in the fall of 2002, I was briefed on interrogation techniques the Administration was considering using in the future. The Administration advised that legal counsel for the both the CIA and the Department of Justice had concluded that the techniques were legal.

I had no further briefings on the techniques. Several months later, my successor as Ranking Member of the House Intelligence Committee, Jane Harman, was briefed more extensively and advised the techniques had in fact been employed. It was my understanding at that time that Congresswoman Harman filed a letter in early 2003 to the CIA to protest the use of such techniques, a protest with which I concurred."

Lower down in the article, the authors and their sources acknowledge Pelosi & Co. were severely constrained in what they could do with the information — and had no way of knowing how the techniques would ultimately used or abused in a pre-Abu Gharaib era.

Congressional officials say the groups' ability to challenge the practices was hampered by strict rules of secrecy that prohibited them from being able to take notes or consult legal experts or members of their own staffs. And while various officials have described the briefings as detailed and graphic, it is unclear precisely what members were told about waterboarding and how it is conducted. Several officials familiar with the briefings also recalled that the meetings were marked by an atmosphere of deep concern about the possibility of an imminent terrorist attack.

"In fairness, the environment was different then because we were closer to Sept. 11 and people were still in a panic," said one U.S. official present during the early briefings. "But there was no objecting, no hand-wringing.

The attitude was, 'We don't care what you do to those guys as long as you get the information you need to protect the American people.'"


But what is the truth???
CIA Confirms: Waterboarding 9/11 Mastermind Led to Info that Aborted 9/11-Style Attack on Los Angeles



By Terence P. Jeffrey, Editor-in-Chief , CNS News


The Central Intelligence Agency told CNSNews.com today that it stands by the assertion made in a May 30, 2005 Justice Department memo that the use of "enhanced techniques" of interrogation on al Qaeda leader Khalid Sheik Mohammed (KSM) -- including the use of waterboarding -- caused KSM to reveal information that allowed the U.S. government to thwart a planned attack on Los Angeles.

Before he was waterboarded, when KSM was asked about planned attacks on the United States, he ominously told his CIA interrogators, "Soon, you will know."

According to the previously classified May 30, 2005 Justice Department memo that was released by President Barack Obama last week, the thwarted attack -- which KSM called the "Second Wave"-- planned " 'to use East Asian operatives to crash a hijacked airliner into' a building in Los Angeles."

KSM was the mastermind of the first "hijacked-airliner" attacks on the United States, which struck the World Trade Center in New York and the Pentagon in Northern Virginia on Sept. 11, 2001.

After KSM was captured by the United States, he was not initially cooperative with CIA interrogators. Nor was another top al Qaeda leader named Zubaydah. KSM, Zubaydah, and a third terrorist named Nashiri were the only three persons ever subjected to waterboarding by the CIA. (Additional terrorist detainees were subjected to other "enhanced techniques" that included slapping, sleep deprivation, dietary limitations, and temporary confinement to small spaces -- but not to water-boarding.)

This was because the CIA imposed very tight restrictions on the use of waterboarding. "The 'waterboard,' which is the most intense of the CIA interrogation techniques, is subject to additional limits," explained the May 30, 2005 Justice Department memo.

"It may be used on a High Value Detainee only if the CIA has 'credible intelligence that a terrorist attack is imminent'; 'substantial and credible indicators that the subject has actionable intelligence that can prevent, disrupt or deny this attack'; and '[o]ther interrogation methods have failed to elicit this information within the perceived time limit for preventing the attack.'"

The quotations in this part of the Justice memo were taken from an Aug. 2, 2004 letter that CIA Acting General Counsel John A. Rizzo sent to the Justice Department's Office of Legal Counsel.

Before they were subjected to "enhanced techniques" of interrogation that included waterboarding, KSM and Zubaydah were not only uncooperative but also appeared contemptuous of the will of the American people to defend themselves.

"In particular, the CIA believes that it would have been unable to obtain critical information from numerous detainees, including KSM and Abu Zubaydah, without these enhanced techniques," says the Justice Department memo. "Both KSM and Zubaydah had 'expressed their belief that the general US population was 'weak,' lacked resilience, and would be unable to 'do what was necessary' to prevent the terrorists from succeeding in their goals.'

Indeed, before the CIA used enhanced techniques in its interrogation of KSM, KSM resisted giving any answers to questions about future attacks, simply noting, 'Soon you will know.'"

After he was subjected to the "waterboard" technique, KSM became cooperative, providing intelligence that led to the capture of key al Qaeda allies and, eventually, the closing down of an East Asian terrorist cell that had been tasked with carrying out the 9/11-style attack on Los Angeles.

More
HERE
The Democrats are weasels, plain and simple.