Lt. Col. Terrence Lakin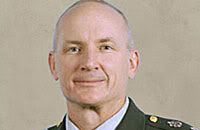 August 06, 2010
Associated Press
Military.com
WASHINGTON -- An Army doctor has been charged with disobeying orders after failing to show up for duty in Afghanistan and questioning whether President Obama has the right to order him there.
Lt. Col. Terrence Lakin is scheduled to be arraigned Friday at Fort Belvoir, Va.
The Greeley, Colo., native did not report to Fort Campbell, Ky., in April to prepare for deployment.
Related Story From last April...
April 14, 2010
Military.com
by Bryant Jordan
The Army flight surgeon who is risking his career to force President Barack Obama to prove he's a "natural born" citizen is under investigation by the Army after failing to report for duty in preparation for an Afghanistan deployment.
Lt. Col. Terrance Lakin was ordered to report to Fort Campbell, Ky., on April 12 but instead reported to Walter Reed Army Medical Center in Washington, his former assignment.
As a result, Lakin "will be assigned to duty at Walter Reed pending investigation," the medical center announced in a brief statement today.
While NBC News is reporting that Lakin will face a court-martial for failing to show up at Fort Campbell, but the official statement makes no mention of that. Calls to Lakin's home in Maryland were not answered and a spokeswoman for a group supporting Lakin said she had not heard that any court-martial proceedings had begun.
Since Lakin vowed on March 30 not to deploy or obey any other orders until Obama produces an "original" birth certificate showing he was born in Hawaii, the Army has not publicly addressed the issue, noting that Lakin had not actually violated any orders.
Behind the scenes, however, he was warned on March 31 in an official letter of counseling that he could face court-martial for being a no-show at Fort Campbell.
The letter detailed several regulations that Lakin would be violating and pointed out the could be jailed and lose all pay and benefits, including his retirement, if convicted.
Lakin has been in the Army for 18 years and already has pulled deployments in Iraq and Afghanistan. Until his reassignment to Fort Campbell to deploy, Lakin was the chief of primary care at the Pentagon's Tricare health clinic.
Lakin's argument is that any orders given him would be illegal if the president, who is also the commander-in-chief, is not legally able to hold the office.
Civilian attorney and former Navy JAG officer Phil Cave says he believes so-called "birthers" – those who contend Obama actually was born in Africa – are hoping to use the court-martial of a military servicemember to try and legally demand documents from the White House that might make their case.
Lakin is the third officer to challenge a deployment based on allegations the president was not actually born in the U.S. In the other cases, a Reserve major who had initially volunteered to be activated was sent back home when his orders were pulled. In the second instance an Army captain, also a doctor, had her case tossed and she deployed to Iraq.
In the letter given to Lakin on March 31, he was told that his deployment orders "are presumed to be valid and lawful orders issued by competent military authority."
Margaret Hemenway, a spokeswoman for the Patriotic American Foundation, which is supporting Lakin, has said she does not expect Lakin to back down.
______________
Well, I don't consider myself a 'birther', I just want to see the damned Birth Certificate, and I want the charlatan to convince all of us Americans that he is a natural born citizen... Simple.
Why can't he, or, why won't he do that?